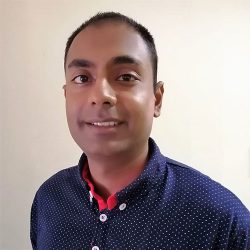 Position: Deputy Dean : Teaching and Leaning & Senior lecturer
Phone: +27 35 902 6846
Email: mudalip (at) unizulu.ac.za
Building &Room: D-block office 104
Biography:
Dr Pragasen Mudali is a Senior lecturer of the Department of Computer Science at the University of Zululand. He holds a BSc (Data Communications Technology), a BSc Honours (Computer Science), a MSc (Computer Science) and a PhD (Computer Science) that was awarded in 2017. All of his qualifications were obtained from the University of Zululand. Dr Mudali is a member of the Institute of Electrical and Electronic Engineers (IEEE) and the South African Institute of Computer Scientists and Information Technologists (SAICSIT).
He currently lectures the Introductory Software Engineering, Systems Programming and Software Defined Networks courses and supervises undergraduate Software Development projects. A provisional SA patent was received in 2015 for work done with his 2nd year students to prevent distracted driving. Dr Mudali is also a CISCO NetAcad Instructor.
Pragasen has participated is a number of externally-funded research projects of the Department of Computer Science since 2006 and he has also led the Wireless Mesh Networks research group in the Department since 2009. His group has produced 3 PhD theses, 6 MSc dissertations since its inception. His research group has also published more 40 articles and conference papers in accredited outlets.
His research interests revolve around energy-efficient Wireless Ad-hoc Networks for rural usage scenarios. He has focused on Wireless Mesh Networks in the past and now he is applying the expertise gained to MANETs and Sensor Networks. The research group that he is leads has previously investigated Routing Protocol performance and energy-efficiency, Transport Protocol performance and energy-efficiency, Gateway selection in rural settings, the selection of Mesh Key Distributors, the energy-efficiency of combinations of Routing and Transport protocols, Autoconfiguration and the influence of distance from the Gateway on node performance in Wireless Mesh Networks.
The research group that he leads is currently investigating the potential for Software-defined wireless ad hoc networks in resource-constrained scenarios such as rural areas and the tactical military environment. Both scenarios force the group to consider the energy-efficiency and autoconfiguration of the software-defined network with the second scenario also forcing them to consider the effect of mobility. The current research focus is thus an evolution from their previous research efforts.
Qualifications:
PhD, MSc, BSc Hons, BSc (UNIZULU)
Research interests: 
Software Defined Networking, Telecommunication Network Topology, Telecommunication Traffic, Wireless Mesh Networks, Internet of Things, Cloud Computing,
Professional membership:
Institute of Electrical and Electronics Engineers (IEEE)
South African Institute of Computer Scientists and Information Technologists (SAICSIT)
Research Databases / Publications