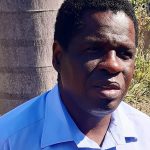 Position : Senior Lecturer and and  HoD
Telephone : 035 902 6340
Email : moyoi(at)unizulu.ac.za
Office : C 04
Biography:
Dr Inocent Moyo is a Senior Lecturer in Human Geography in the Department of Geography and Environmental Studies at the University of Zululand. Dr Moyo is a Human Geographer with a deep interest in the interface between people and the environment, particularly the broader fields of Political Geography, Political Economy, Political Ecology, Migration, Regional Development, Globalization and Transnationalism, Borders and Borderlands and Urban Geography, among others. He teaches Human Geography courses, which include SGES112: Introduction to Human Geography and SGES311: Urban Environments and Recreation Planning. His postgraduate teaching encompasses AGES505: Urban geography and SGES509: Research Methods in Geography. In addition, he has a number of Masters and PhD students under his supervision. Dr Moyo has established research collaborations with universities in South Africa and beyond, such as University of Eastern Finland. He is also the founding Chair of the International Geographical Union (IGU) Commission on African Studies.
Qualifications:
PhD (UNISA), MA, BA Hons, GRAD CE (University of Zimbabwe), Certificate in Border Studies (University of Victoria, Canada)
Research interests: 
Inocent has a broad range of research activities within the field of Human Geography. He is currently collaborating with researchers from various universities such as University of Pretoria, University of Eastern Finland and Nottingham University. There is a number of Honours, Masters and PhD students who are working under his supervision.
Professional membership:
Chair: IGU Commission on African Studies
International Geographical Union (IGU)
Member of the Association of Borderlands Studies (ABS)
Research Databases / Publications 
Selected Publications
Books
Moyo, I Nshimbi, C.C and Laine, J (Eds). 2020. Migration Conundrums, Regional Integration and Development: Africa- Europe Relations in a Changing Global           Order. London: Palgrave MacMillan.     
2. Nshimbi, C.C and Moyo, I (Eds). 2020. Borders, Mobility, Regional Integration and Development: Issues, Dynamics and Perspectives in West, Eastern and Southern London: Springer.         
Moyo, I and Nshimbi, C.C (Eds).2019. African borders, conflict, regional and continental integration.     London and New York. Routledge.
Moyo, I. 2017. African immigrant traders in Johannesburg inner city: a deconstruction of the             threatening other:  London: Palgrave Macmillan.
Nshimbi, C.C. and Moyo, I (Eds). 2017. Migration, Cross-border Trade and Development in Africa: Exploring the role of non-state actors in the SADC region. Series: Palgrave Studies of Sustainable Business in Africa. London: Palgrave.
Peer reviewed Journal articles
Moyo, I. On Decolonising Borders and Regional Integration in the Southern African Development Community (SADC) Region. Soc. Sci. 2020, 9, 32:1-12
Moyo, I. 2019. On Borders and the Liminality of Undocumented Zimbabwean Migrants in South Africa. Journal of Immigrant & Refugee Studies, DOI:             10.1080/15562948.2019.1570416.
Moyo, I and Nshimbi, C.C. (2019). Border Practices at Beitbridge Border and Johannesburg Inner City: Implications for the SADC Regional Integration Project. Journal           of Asian and African Studies, 54 (3): 309-330.
Moyo, I. 2018. Theorizing borders in Africa: What implications for African integration? Africa Insight 48 (1):29-40.
Nshimbi, C.C, Oloruntoba, S.O and Moyo, I. 2018. Borders, informal cross-border economies and regional integration in Africa – editorial. Africa Insight, 48 (1):1-2.
Nshimbi, C.C, Moyo, I and Oloruntoba, S.O. 2018. Borders, informal cross-border economies and regional integration in Africa – An Introduction. Africa Insight, 48 (1):3-11.
Moyo, I, Gumbo T and Nicolau, MD.2018 African Migrant Traders' Experiences in Johannesburg Inner City: Towards the Migrant Calculated Risk and Adaptation Framework, South African Review of Sociology, 49:1, 53-71.