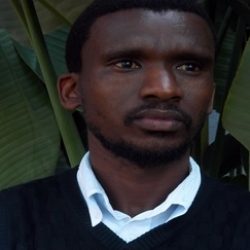 Position:  Lecturer
Phone: +27 35 902 6328
Email: ndlovut(at) unizulu.ac.za
Building &Room: D-block office 115
Biography:
Thami Ndlovu is a lecturer at the department of Computer Science. She holds a Bachelor of Science  and B.Sc. Honours Degree in Computer Science (2008) both from University of Zululand. Mr Ndlovu   academic work experience started way back when he was a student in the department of Computer Science helping junior students, working as a laboratory assistant for Introduction to Programming module. After graduating he was then absorbed by the very department of which till to date he still serving and his passion grows stronger every day. His future plan is to become one of the senior lecturers and become a world renowned researcher and academician. 
 Lecture 's  the following modules:
Qualifications:
PhD, MSc, BSc (Combined Hons) (IFE),
Research interests:
Research interests are in IoT, Access Control Security & Privacy, Cloud Computing & Artificial Intelligence (AI). Currently I am pursuing my Master's degree in user-independent, object-to-object Relationship Based Access Control (OOBReBAC) in Internet of Things (IoT) by investigating trends and techniques applied in Online Social Networks (OSN). The outcome of this endeavour will pave way to my PhD that will follow after. His previous work has been on Wireless Sensor Networks (WSN) energy aware routing and deployment.
Professional membership:
IEEE – Institute of Electrical and Electronics Engineers

SAICSIT – South African Institute of Computer Scientists and Information Technologists (applied for)